While there are many well-qualified boat shops doing excellent work, MP&G's goal has been to set ourselves apart. We hope that describing our shop and restoration philosophy will show why we are uniquely qualified to undertake challenging and important projects.
THE SHOP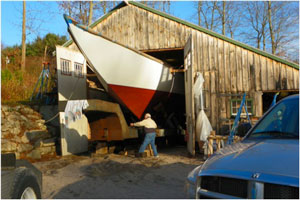 Our shop on Flanders Road in Mystic CT was specifically designed and built for our purposes in 2000. The shop measures 60'x 40' and is partially built into a hill, which helps moderate temperature variations. The building accommodates boats up to 50' inside and allows Spartan, a 72' "New York Fifty", to fit through the door. The orientation of the building makes it possible to add extensions to the length (which was necessary for Spartan's refit). The framing is of windfall hemlock and the external sheathing is pine; both walls and the roof are insulated. In hot weather, we use simple but effective cooling systems: circulating cold well water through radiators, and evaporative roof cooling.
We often humidify the work area near the boats to keep planking from drying out.
We have the capability to roll over boats of moderate size for down-handed planking and other bottom work.
Read more about our restoration philosophy.